Medical equipment in high demand
Statistics:
According to Rosstat every year 3,8 million patients are diagnosed with circulatory system diseases;
Complications of pregnancy and birth are observed in over 2,7 million patients every year;
Trauma and poisonings are observed in 13 million cases every year;
Cardiovascular diseases kill over 1 million patients very year. Cases of disability resulting from them is almost as large in numbers.
These are only a couple of examples from the list of diseases which can be treated with our medical equipment. Today plasmapheresis is recommended for over 200 diseases, and Ministry of Health registered in its Treatment Standards application of plasmapheresis as a necessary treatment procedure. Technology and equipment for membrane plasmapheresis have perfectly proved their use in medical practice in a number of medical institutions of Moscow. Medical professionals perform procedures of therapeutic plasmapheresis with good therapeutic results.
Import-substituting products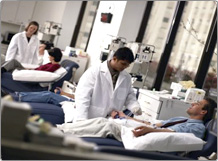 Domestic and imported devices and filters for plasmapheresis are used successfully in Russia. Development of the method is hindered by high costs of the procedure caused by high cost of foreign devices and filters. TRACKPORE TECHNOLOGY offers their own method and supplies clinics of the Health Ministry, civic and private hospitals with devices and manufactured in Russia with modern high-tech domestic equipment based on newest Russian technologies. Supply of HEMOFENIX devices and ROSA filters makes it possible to make the cost of plasmapheresis procedure 10 times cheaper with the same quality as with imported equipment.
At the same time, the use of domestic technology in the procurement of plasma donation, in cases of mass disasters or military conflicts from the perspective of national security is strategically justified. This means that domestic medical equipment should become a substitute for procuring imported equipment today.