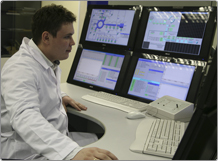 Everything for blood plasma purification – membrane plasmapheresis – Is being made in Russianresearch and production complex. For manufacture of the basis of filters, track-etched membrane the first ever industrial cyclotron was built (working not for research purposes, but for making filtering element for medical equipment). Making the smallest hole of 0.4 micron in a Mylar film takes very complex equipment. Such equipment cannot be bought or sold; it is made with hard work of brilliant scientists. Scientists of joint Institute of Nuclear Research worked on creating the industrial cyclotron for making track-etched membrane, and the majority of its components were made in Experimental Production of JINR. Today, specialists work with accelerator – physicists, chemists, PhDs and candidates. Such is the level required to fully exploit this complicated station.
In partnership with Russian Corporation of Nanotechnologies (RUSNANO), TRACKPORE TECHNOLOGY is constructing within the Dubna special economic zone a high-tech domestic production facility for serial production of high-tech nanomembrane as well as innovative medical equipment for cascade blood plasma filtration: cascade plasmafilters and devices for cascade plasma filtration.
Research and production complex "BETA" (BETA RPC) will be equipped with the newest acceleration complex (cyclotron) based on ions of crypton and xenon, developed by scientists of joint Institute of Nuclear Research (JINR).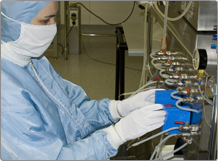 Development of ROSA filter was carried out by company specialists together with scientists of joint Institute of Nuclear Research in Dubna, Shubnikov's crystallography research institute of RAS а, Research Institute of electrophysical equipment in St. Petersburg, Institute of Pulmonology, St. Petersburg State Medical University named after IP Pavlov and other leading scientific and medical organizations. Together they created a plasmafilter providing effective blood separation into formal elements and plasma.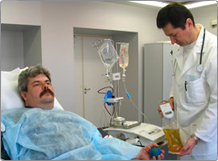 Clinical testing of ROSA filters and HEMOFENIX plasmapheresis devices included leading Russian clinics. Positive results of treating patients with devices and filters for membrane plasmapheresis were received in Research Institute of Pulmonology named after IP Pavlov, Hospital of Burdenko, R&D Institute of Power and Energy of N.A. Dollezhal of Minpromatom, the Central Hospital of the Navy, the military hospitals of the Defence Ministry, the Health Ministry clinics.