Biochemical laboratory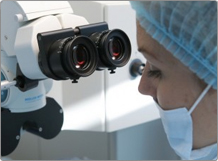 Laboratory research is an integral part of the process of development of innovative medical equipment. Biochemical lab holds over 100 types of research from general blood analysis to defining biochemical, electrolytic and hormonal contents of blood, microbiological, serological and cytological examinations. The laboratory is equipped with modern equipment for diagnostics by leading manufacturers. Medical biochemistry is often called the profession of the 21st century. Many Russian universities have recently created departments and centers for training of specialists in this field. We are happy to report that our laboratory is one of the few based in production facilities and doing practical work in biochemistry of blood, creation of filtering materials based on track-etched membrane.
Experimental design bureau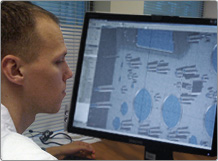 Experimental design bureau engages both in development of new medical equipment for hemocorrection and modernization of currently produced devices for membrane plasmapheresis. The bureau has its own production and technical facilities allowing for operations of developing, manufacturing and testing prototypes of medical equipment. As a result of many years of developing medical equipment for hemocorrection, the bureau has strong connections with suppliers and subcontractors. Our programmers make modern and easily accessible software for hemocorrection devices. Our equipment is highly ergonomic. Our products are in successful competition with foreign counterparts.
Innovations department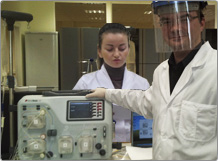 The purpose of this department is development of innobative technologies and creation of high-tech production with expansion of infrastructure as a complex system of full innovative cycle providing development of a series of priority fields of medicine, preparation of competitive staff and commercialization of developments in the innovative medical segment of the economy. To achieve this we cooperate with other departments and divisions of the company transferring results of research and development, legal security of intellectual property, licensing of technologies, creating small innovative groups to work on specific projects. An important aspect of our work is realization of basic and advanced training programs with practice exchange with foreign companies having innovative infrastructure of developments.