Membrane filtration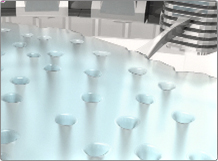 The main purpose of porous membranes is separation of components in liquids and gases. Pore size defines filtering range: from large rains to different molecules. The most common applications are in the field of medical, purification and desalination of water, chemical, metallurgic and food industry. Membrane material can be a polymer (cellulose, nylon, silicone compounds etc.), ceramics or metal. According to pore size there are membranes for microfiltration (50–3000 nanometers), ultra-filtration (3–100 nanometers), nanofiltration (1–7 nanometers) and reverse osmosis(0,1–1,2 nanometers).
First industrial cyclotron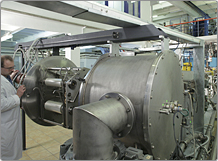 Production of track-etched membranes is not only a result of conversion of experimental stations. In 2002 Dubna had world's first industrial cyclotron built specifically for production of track-etched membranes with subsequent manufacture of medical equipment for membrane blood filtration and plasmapheresis. Filters with membranes having diameter of 400 nanometers interrupt erythrocytes, leukocytes and thrombosis but let plasma through. Filtered formal elements are returned to the blood flow and the part of plasma with dangerous substances is separated in exchange for physiological solution. Plasmapheresis is recommended for disposal of toxins in blood – for example, in cases of acute poisoning of asphyxiation syndrome in patients who spent several hours buried under collapsed buildings. Cyclotron and filter assembly room are parts of APLPHA Research and production complex.